Depp expressed his regret to fans, stating, "My dear friends, I am sorry to say that I have fractured my ankle, which is a drag!!! It began as a hairline break but somewhere between Cannes and the Royal Albert Hall it got worse rather than better."
Following the advice of medical professionals, Depp was advised to refrain from any physical activity for the time being, making it impossible for him to travel. He expressed his band's disappointment, saying, "The guys and I are very sorry to miss you in New Hampshire, Boston, and New York." However, he provided rescheduled dates for the performances on July 28, 29, and 30.
Despite this setback, Depp assured fans of an amazing show once he recovers, along with his sincerest apologies for the inconvenience caused. In May, his French-language film "Jeanne du Barry" premiered at the 2023 Cannes Film Festival, where Depp participated in autograph signings, took selfies with fans, and discussed his "comeback" in the film industry during a press conference.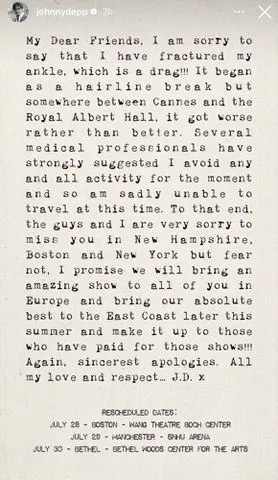 When asked about feeling boycotted by Hollywood due to his high-profile legal battles, Depp responded, "Do I feel boycotted now? No, not at all. But I don't feel boycotted by Hollywood because I don't think about it. I don't think about Hollywood. I don't have much further need for Hollywood myself."
Depp clarified that he hadn't disappeared from the industry, stating, "I keep wondering about the word comeback because I didn't go anywhere. As a matter of fact, I live about 45 minutes away. So yeah, maybe people stopped calling out of whatever their fear was at the time. But no, I didn't go anywhere. I've been sitting around."