Far from the makeup chairs of magazine shoots and runway shows in the West Town neighborhood, Jin Soon Choi, a former clothing business owner in Seoul turned renowned manicurist, is talking about her namesake upcoming collection when an awestruck young woman interrupts the conversation. "I just had to say, I think you're amazing," she says to Choi, in town promoting her nail lacquer line to retailers and editors. Choi, 52, has been an integral force in elevating nail art as a fashion category and in the process, became one of the most hotly pursued manicurists among stylists and designers.
Often referred to as a "nail guru," she speculates her success in this particular craft started in 2001, when she created her first nail art editorial paired with jewelry. "That was huge. No one did it before," Choi says. "Then, I think, slowly, it started building. There are two different styles [of nail art]. One is nail Pop Art, like Katy Perry and Lady Gaga. They do more 3-D, outrageous style. I was always into simple, modern nails. My inspiration always came from art Jackson Pollock, [Wassily] Kandinsky, [Mark] Rothko, [Piet] Mondrian."
Part of photographer Steven Meisel's editorial team, her work has appeared on the cover of Vogue Italia and in the advertising campaigns of major brands, like Prada and Louis Vuitton. The August cover of InStyle features Zooey Deschanel wearing Kookie White, a bluish-gray polish shade from her spring collection, "Color Field."
Choi's rise to nail stardom was not without bumps and challenges. Early on, a client suggested she work on photo shoots. Inexperienced, she went to a Barnes & Noble bookstore and studied the mastheads of the beauty magazines. "I sent 50 cards to beauty directors saying, 'I do home visits and photo shoots.' One person responded, [former Glamour magazine contributor] Andrea Pomerantz Lustig and we're still friends," recalls Choi who also credits Meisel with playing a big role in her career.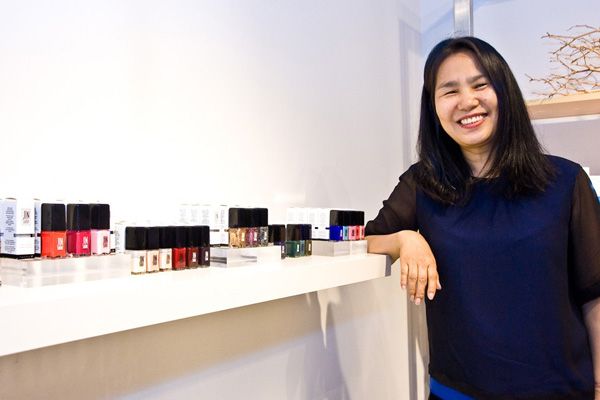 "He naturally influenced me, without telling me. He's a very loyal, wonderful person with a very kind heart," she says. These days, Choi, who lives with her architect husband John Coughlan in a loft in Manhattan's SoHo, divides her time between her polish line, photo shoots, visiting her three Manhattan nail spas and staying busy on social media.
"You look at her Instagram and you see beautiful nails and cool nail art and then you'll see these fun selfies with her beautiful face smiling, laughing and posing with a model," says Allure magazine beauty director Patricia Tortolani. "That silliness and excitement for her work comes across in that feed because you're getting all aspects of her work and her personality. That's true about Jin Soon the person, Jin Soon the brand and the nail designs."
For fall, Choi will introduce a limited-edition designer collaboration collection in August. It will feature shimmering takes on classic cold-weather colors. And, on the fashion horizon, she says she would love to collaborate with a handbag and luxury shoe designer and does not rule out the possibility of opening another nail spa maybe in Chicago. "I'm just working nonstop, day and night. You cannot lose, especially with a nail polish line. I have to make it," she says.