Hennes & Mauritz has a new beacon on the Left Bank, a burgeoning district for fashion retailers.
The Swedish high-street retailer today opens a new flagship at 77 Boulevard Saint-Germain, a stone's throw from the tourist and student enclave of Boulevard Saint-Michel, which it hopes will become one of its top revenue drivers in France.
At around 27,000 square feet, the unit is the retailer's second-largest in Paris. It also has one of the largest product offerings of any H&M store in France, with collections for women, men, juniors and children spread over three floors, and an expanded shoe selection for women and men.
Thomas Lourenço, managing director of H&M France, said the store aims to attract local residents, students and tourists. "It's an important store for us in terms of image, because it really represents the best of H&M," he said.
"We have invested even more resources and energy in this store because, in addition to selling clothes, it needs to project a positive image of the brand and to inspire visitors, who may then return to their local H&M, whether in England, Japan or other cities in France," Lourenço added.
The store features a new design concept in a palette of stone, beige and white. Lighting fixtures include an LED screen above the main entrance; a ceiling covered with exposed light bulbs in the trend section of the women's department and a large light box over the escalator banks, which are flanked by a glass wall featuring a design by illustrator Lovisa Burfitt.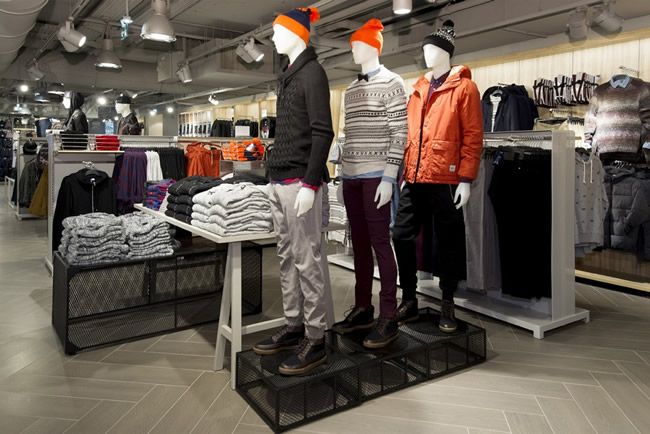 Groups of mannequins are dotted throughout the store and a greater proportion of the merchandise is hung facing forward. The unit will test new service concepts such as greeters, and its 86 staffers will be more clearly identifiable. "We want customers to be able to choose the level of service they want," the executive said.
The store will also be one of the first in France to offer its department heads and visual merchandisers training programs that result in official qualifications. H&M has more than 200 stores in France, including 191 H&M units, 14 COS stores, one & Other Stories unit (with a second to open in Paris on Nov. 14), and one each for its Monki and Cheap Monday banners.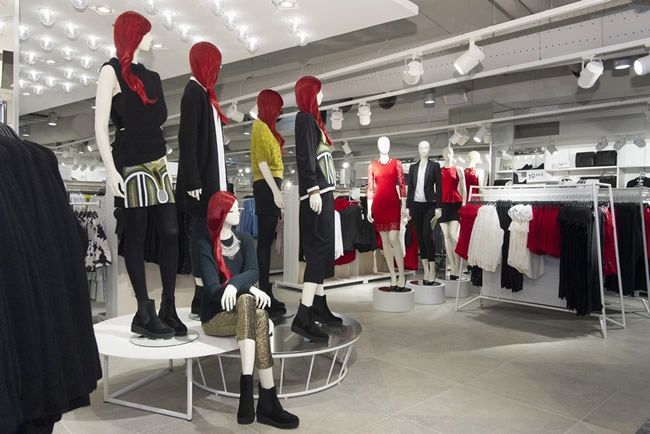 Lourenço said the fast-fashion giant plans to open additional H&M stores in larger cities next year, including a new flagship in Nice in a space formerly occupied by a Virgin Megastore. It also plans to enter medium-sized cities including Dax, Millau, Vichy, Lens and La Rochelle.
As it continues to expand its range of concepts, such as its beefed-up
H&M
Sport collection, the retailer is targeting spaces that average 16,000 to 21,500 square feet, versus 11,000 to 16,000 square feet previously, Lourenço said. H&M is also looking for additional locations in the French capital.
"I'm thinking for instance of the Bastille and République areas. We think there is still quite a lot of potential in Paris," he said.