Two of the most glamorous destinations on the French Riviera will share the spotlight today when Nicole Kidman is due to walk the red carpet for the premiere of "Grace of Monaco" which is screening out of competition on the opening night of the Cannes Film Festival. Kidman, who plays the film star-turned-Princess of Monaco, had plenty of help from the wardrobe department to get into character. Costume designer Gigi Lepage tapped many of Grace Kelly's favorite clothing and accessories brands to contribute vintage, new and replica items designed to make Kidman's outfits as vivid as possible, starting with the Hermès Kelly bag that was named after the princess. Lepage was given carte blanche by director Olivier Dahan, with whom she has worked on four previous projects though not on the 2007 Édith Piaf biopic "La Vie en Rose." "Olivier Dahan gives me complete freedom when I'm working with him. When I ask him questions, he replies, 'Read the script,' which means that maybe the answer is hiding between the lines like a magic formula.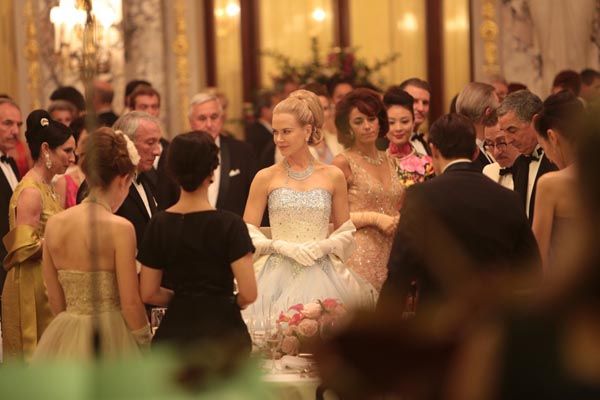 This is one of the reasons it's a real pleasure working with him," Lepage says. The movie does not claim to be a biopic, instead offering a semifictionalized account of the moment in 1962 when Grace of Monaco had to choose between returning to Hollywood to star in Alfred Hitchcock's "Marnie," or helping her husband Prince Rainier III ward off a political crisis with France.
"Since it wasn't an historical film, I felt free in terms of the plot to create costumes and along with the set decor, the fashion spirit of the Sixties inspired me," says Lepage. To achieve Kidman's look, Christian Dior reproduced two women's suits designed by Marc Bohan, then artistic director of the house, including the gray Gamin skirt suit he showed as part of the fall 1961 haute couture collection. Grace of Monaco's long-standing links to Dior were highlighted in an exhibition of her outfits, staged by the brand to coincide with its resort show in Monaco last May.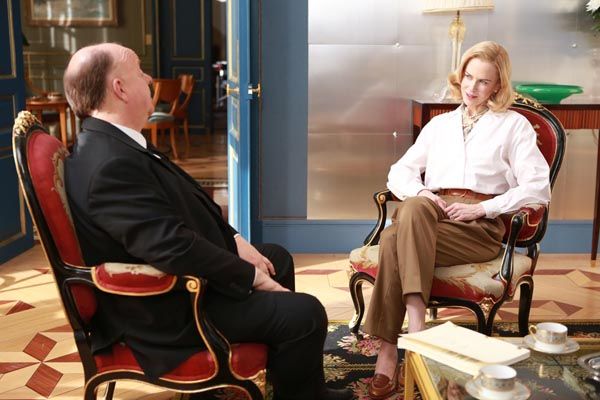 Chanel chose to contribute a suit from its fall 2012 haute couture line, though the skirt was subsequently altered to fit the look of the film. Lepage says she created a number of dresses that were not formal copies, but strongly inspired by archive photographs. They include an ivory dress derived from a 1956 design by Antonio del Castillo for Lanvin, made to be worn with the sash, star and badge of Monaco's Order of Saint-Charles. Photographs show Princess Grace wore the outfit on formal occasions, including a state visit with French President Charles de Gaulle in Paris in 1959.
The blue dress Kidman wears for the Red Cross ball scenes in the movie is based on a vintage Jean Dessès design and is embellished with Swarovski crystal. "I worked with a specific color palette that first and foremost enhanced her blonde hair, blue eyes and her delicate porcelain skin. I definitely kept in mind colors that were in vogue during this period, especially pale yellow, which was a favorite of Grace of Monaco," Lepage says. Cartier also plays a key role in the film. Though the Sovereign House of Monaco recently issued statements criticizing the movie as historically inaccurate, it gave the jeweler permission to reproduce five pieces in the royal collection. These include the 10.47-carat emerald-cut diamond engagement ring that Kelly was given by Prince Rainier in 1956, after the couple met during the 1955 Cannes Film Festival.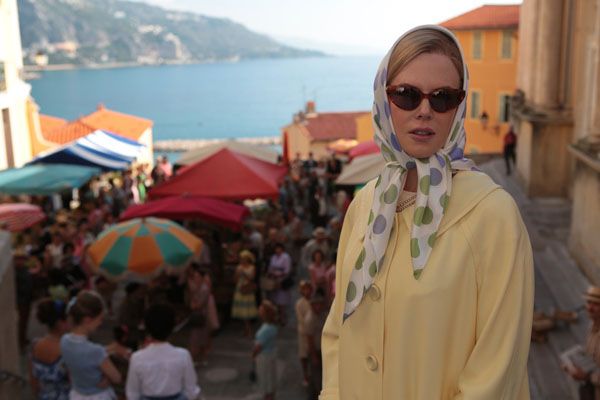 Cartier loaned the production a number of other items, including an emerald necklace worn by Paz Vega, who plays Maria Callas in the film, while the brand's boutique on Rue de la Paix in Paris is the backdrop for a key scene in the movie. In addition to providing access to its Kelly bag archives, Hermès supplied silk scarves, while Salvatore Ferragamo and Jimmy Choo contributed shoes. Kidman's gloves were made exclusively by Maison Fabre, and her hats were created by Alexandre Barthet, the son of Jean Barthet, Grace of Monaco's original milliner.
"She would buy the entire collection," notes Lepage, referring to a yellowed press clipping that shows the princess sported eight Jean Barthet hats on the 1959 Paris state visit alone. Philippine Pinton, granddaughter of François Pinton, her original eyewear designer, created the glasses for the film, including the signature pair worn by Aristotle Onassis, played by Robert Lindsay. Indeed, all the characters benefited from the same scrupulous attention to detail.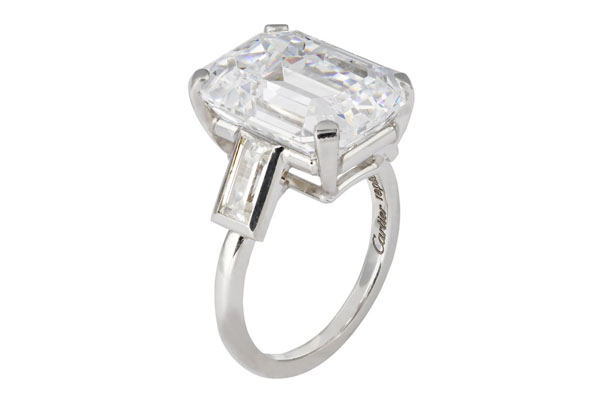 Tim Roth, who stars as Prince Rainier III, wears Smalto suits, shirts from Charvet, Berluti shoes and Cartier watches and fashion accessories. Parker Posey, who features as lady-in-waiting Madge Tivey-Faucon, and Jeanne Balibar, who plays Countess Baciocchi, both got to slip into vintage Balenciaga. Lepage credits her background in fashion for wanting every detail to be authentic. Having started her career as a wardrobe assistant, she worked alongside Marc Ascoli doing press for Yohji Yamamoto and Martine Sitbon before becoming a stylist for photographer Jean-Baptiste Mondino. "I have a passion for couturiers, seamstresses, jewelers," she says. "When you have an amazing opportunity like this film, you can't miss it. There were so many beautiful things from that period."