Last week, feminism had a pretty landmark week thanks to Emma Watson's launch of the #HeForShe campaign (also, Lena Dunham doled out sage advice about pasties, but I digress). Well, feminism is about to have another great week (and on and on for every week in the future, please?) because the Chanel Spring/Summer 2015 show at Paris Fashion Week set out on a mission to merge feminism and fashion. The reviews are mixed, but the discourse it's creating a debate over whether the show is a display of genuine feminism or an attempt to capitalize on the at-the-moment "trendiness" of the fight for gender equality is of benefit to everyone.

Chanel's ties to feminism can be traced back to the Coco Chanel designed collections. Coco was a pioneer in adopting fabrics, pieces, and silhouettes that had been previously reserved for men. While certainly not single-handedly (*cough*Katharine Hepburn*cough*), we very much have Chanel to thank for popularizing pants for women. Can you imagine life without pants? No gracias.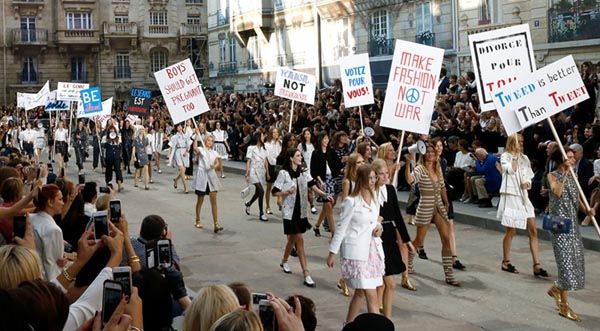 Karl Lagerfeld's Spring/Summer 2015 collection called back to that, showing tweed suits with roomy trousers and metal #CCcertified attache cases, but it was the end of the show that has sparked a firestorm of conversation. The show's finale was led by a megaphone-toting (Chanel-branded, natch) Cara Delevingne, who was joined by the likes of Kendall Jenner, Joan Smalls, Gisele Bundchen, and more. In addition to, y'know, modeling Chanel's new collection, the models held both English and French protest signs.
If there's one thing fashion can't resist, it's a pun. Thus, a few of the show's signs read sayings like "Tweed Is Better Than Tweet" and "Make Fashion Not War," which only kind of make sense to me, but whatever. The bulk of the signs, however, carried pro-women messages.
Picket signs shouting, "Boys Should Get Pregnant Too," "Feminism Not Masochism," "History Is Her Story," and "We Can Match The Machos," paraded down the runway, held by models in impeccable suiting, colorful coats, and knee-high boots. After the show, Karl reportedly revealed that his feminist ideology comes from his mother, "who was also a great admirer of a certain feminist of the 19th century" Hedwig Dohm, according to Telegraph's Lisa Armstrong.
One man, besides Karl, appeared on the Spring 2015 runway model Baptiste Giabiconi. Baptiste and Karl go way back Choupette used to live with the model before being adopted by Karl and was the designer's choice to hold the finale's "He For She" sign.
For every positive review, there's another deeming it "laughable," but one thing is for sure: people are talking. Whether he meant to incite it or not, Karl and his Chanel SS15 show have created an opportunity for us all to further discuss what gender equality means, how far we have to go until it's truly achieved, and the implications of pairing feminist ideology with the fashion industry.