When creator and executive chairman Leslie Blodgett introduced bareMinerals almost 20 years ago, her mission was to convince women to leave behind liquid foundation, a makeup format she felt was a chemical-filled, cakey mess that, antithetical to bareMinerals' healthy brand proposition, was bad for the skin. Millions of women did switch, but millions of liquid loyalists didn't.
Now, bareMinerals is vying to bring the holdouts on board with bareSkin, its foundation franchise that will be launched Thursday. It embraces the liquid format the bareMinerals' way, with a serum consistency and a long list of ingredients that are excised.
"BareMinerals is launching a foundation in the serum form that is very different from other liquids on the market. If you need to use liquid and won't use anything else, we finally have a solution for you," said Blodgett. "We still want people off liquid foundation. We are against liquid foundation. This isn't a liquid foundation, just like our original bareMinerals was not a powder. We had to explain for years that it was crushed minerals and not a powder. This is a serum, and it has got half of the ingredients of a traditional liquid foundation. We felt that every woman deserves to have a foundation, whether it is in the serum form or powder form, that has the fewest possible ingredients that allows them to have the look and the health benefits that they want."
Sephora chief merchant Margarita Arriagada is already sold. "The team at Bare Escentuals has created a revolutionary product, not just for their assortment mind you, but amongst the entire complexion category," she said. "BareSkin is like no other product on the market and is founded on the brand's original philosophy 'makeup that acts like skin care.' Leslie (Blodgett) and her team continue to be trailblazers in how women think, feel and interact with 'foundation.'"
Before nailing down bareSkin's formula, Sandy Saputo, senior vice president of global marketing at Bare Escentuals, noted the company did loads of research to understand the mind-set of users of liquid foundation, the leading type of foundation on the market today. It discovered that 61 percent of users aren't satisfied with liquid foundations because, although they like the cosmetics characteristics of the format, they are concerned about potential damage to their skin. "We are best at giving women complexion products that are great for their skin and not only with immediate benefits, but improvement of their skin over time," said Saputo. She pointed out that bareSkin contains Vitamin C and lilac plant stem cells that have antioxidant power to protect skin from detrimental free radicals.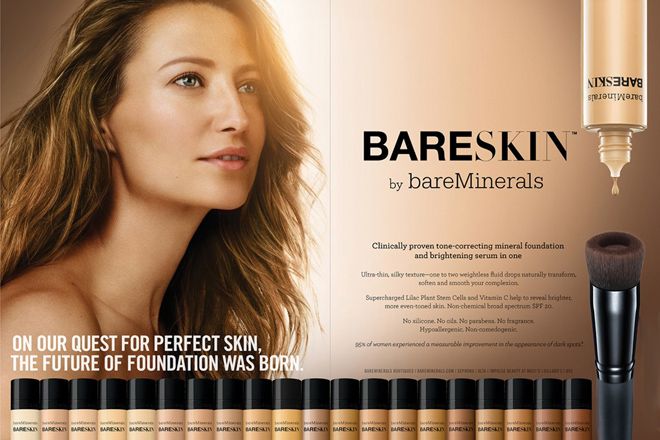 Known for the "swirl, tap, buff" instructions that guide women through the application process for its Original mineral foundation, bareSkin is associated with its own set of three word instructions: "shake, drop, buff."
"When it comes to coverage, bareMinerals is known for something called buildable coverage. It is part of the equity proposition of bareMinerals," said Saputo. "We wanted to create a product that delivered that, but we know that, especially with liquids, it has to deliver on full coverage. We wanted to create a formula that went that far, but also a proprietary tool and process that would easily allow our customer to get the coverage she needs easily."
Because it's a departure for bareMinerals, Blodgett sought not to spring bareSkin on its customers without talking to them about why the brand has gone in the liquid direction. BareMinerals sampled the product to around 1,000 of its most diehard fans to solicit feedback, prelaunched bareSkin on QVC, which Blodgett returned to after about a year of not appearing, at the end of February to begin sharing the bareSkin story with consumers, and Blodgett wrote out a long explanation to QVC customers of bareMinerals' decision to move forward with a liquid format that was posted on Facebook.
So far, the results on QVC indicate that Bare Escentuals could have a hit on its hand. Claudia Lucas, director of beauty merchandising at QVC, reported that 100,000 units of bareSkin have been ordered. She elaborated, "QVC has shared a long and successful history with bareMinerals since the brand debuted with us in 1997. The launch of bareSkin was years in the making, with extensive research and development for the brand's first liquid foundation. We were delighted to offer the QVC customer this new innovation with an advanced order opportunity in February, well before the national launch on May 1."
The retail push for bareSkin will be supported by digital, print and television advertising starting in May. It is the most significant launch advertising campaign the company has done. Company executives want Bare Escentuals to bring in new customers. "I really don't want existing customers here. I want those people who would have never walked into the (bareMinerals) store because they didn't think we sold what they bought," said Blodgett. "The reason we care about your current customers is that we want them to respect us for doing this, but we don't want them to use it because they are happy with the current product. I don't want anyone switching."